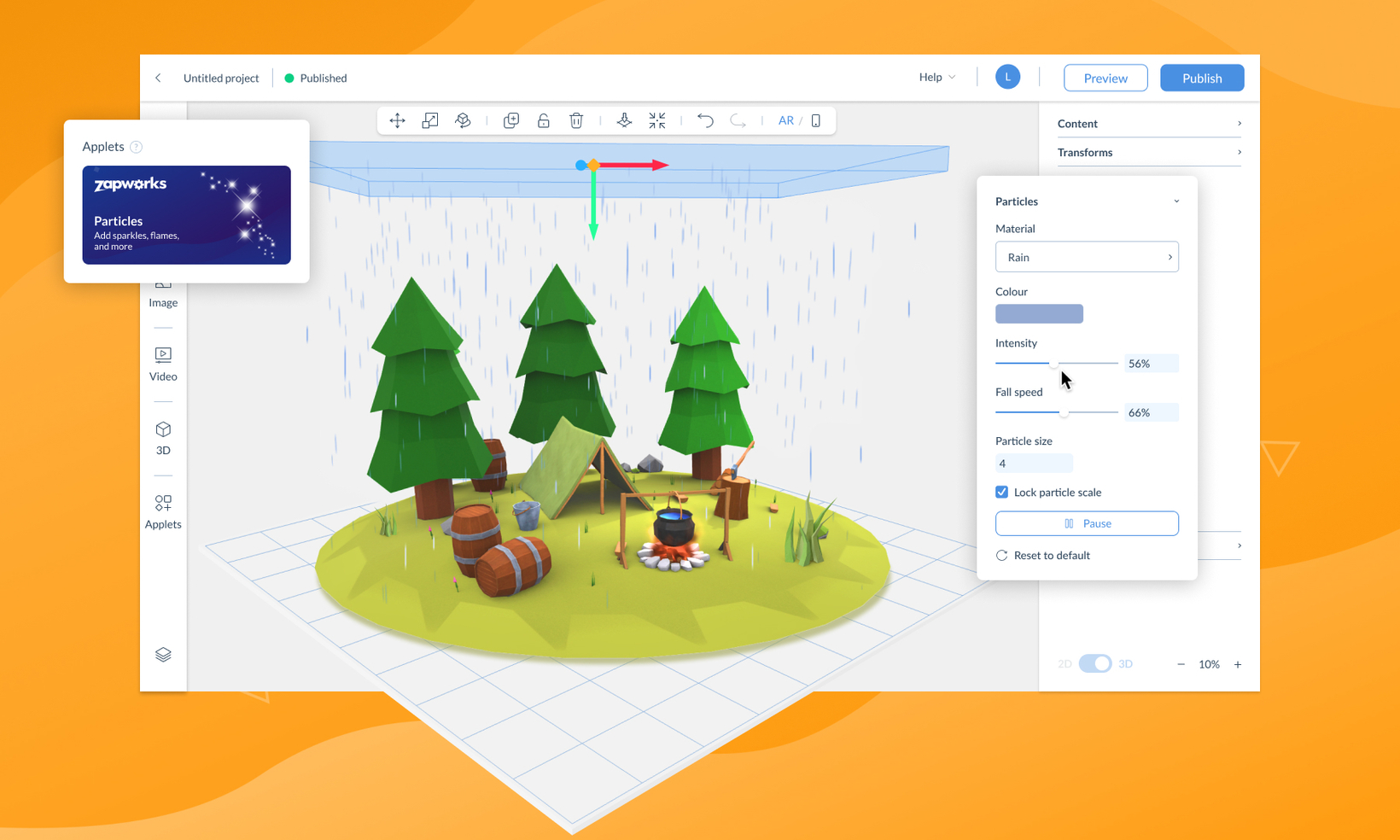 DATE:

AUTHOR:

Chris Holton
Introducing Particle Effects: Elevate Your Designer Projects with Dynamic Visuals
DATE:
AUTHOR: Chris Holton
Hey everyone!
I hope you're having a fantastic year so far. We've been working hard to enhance Zapworks Designer, our no-code tool for creating WebAR experiences. In 2023, we introduced exciting features like Face Tracking in February and integrated Avaturn, Google Analytics, and Microsoft Clarity support in March.
Today, we're thrilled to announce another major release: Particle Effects! Let's explore what Particle Effects are and how you can use them in your Designer projects:
.
Introducing Particle Effects and Emitters
Particle Effects are a powerful technique used in games and computer graphics to create captivating and dynamic experiences. As a content creator, you can configure particles to enhance the end user's experience. These particles are generated from emitters, defined areas that you can place in your Designer scene. You have the freedom to position the emitters wherever you desire..
.
Templated Particle Effects: Rain, Snow, Sparkles, Confetti, and Fire
If you've used Particle Effects in 3D modeling tools or game engines, you know they can quickly become complex. To make particle effects more accessible in Designer, we've struck a balance between flexibility and ease of use. We've prepared five pre-made effects to help you get started: rain, snow, sparkles, confetti, and fire. Today, you can easily add these effects to your scenes.
.
.
Create Custom Variations with Sliders and Materials
In addition to the pre-made templates, Designer offers a wealth of customization options for particles. Once you've added a particle effect to your scene, you can adjust the position, rotation, and scale of the emitter. Furthermore, you have control over various characteristics of the particles themselves. Our templates are just the beginning. See in the video below how we add in our pre-made Snow emitter and create an entirely new effect by rotating it and putting it below the face, change the material to a bubble shape, set the colour to blue and increase the intensity. The possible particle combinations within Designer are endless. Unleash your creativity!
.
.
Enhance Interactivity with Particle Actions
Interactivity is a defining aspect of an AR experience. In Designer, particle effects can be added to autoplay as soon as the experience begins, or they can be controlled through actions. Add in a button to trigger the new action type to "animate particle". This action is similar to what is used to animate 3D models, and gives users control over when the particles play. Additionally we have added the ability to toggle particles on and off through the same or a different button.
.
Apply Particle Effects to Different Scene Types
Particle effects can be added to all scene types in your Designer projects. We've thoroughly tested this feature during development and are confident that it will bring your scenes to life. Give it a try, especially with face tracking scenes, as particles add an extra layer of immersion. You can also use particles in your AR Embeds!
.
---
.
To get started with Particle Effects, simply click on the Applets drawer located on the left-hand side of the interface, just below Avaturn. We can't wait to see what you create! Stay tuned for new templates, tutorials, and documentation to help you unlock the full potential of particles.
.
We extend our heartfelt thanks to the incredible team at Zappar working on Designer. It brings us immense joy to bring these awesome new features to the Zapworks community. We're excited for you to try Particle Effects and please share your creations with us using #MadeWithDesigner!
.
Attribution
Low poly camp by lukat33 on Sketchfab
Scuba Goggles And Snorkel by Turtle_Flipper on Sketchfab, modified by Zappar