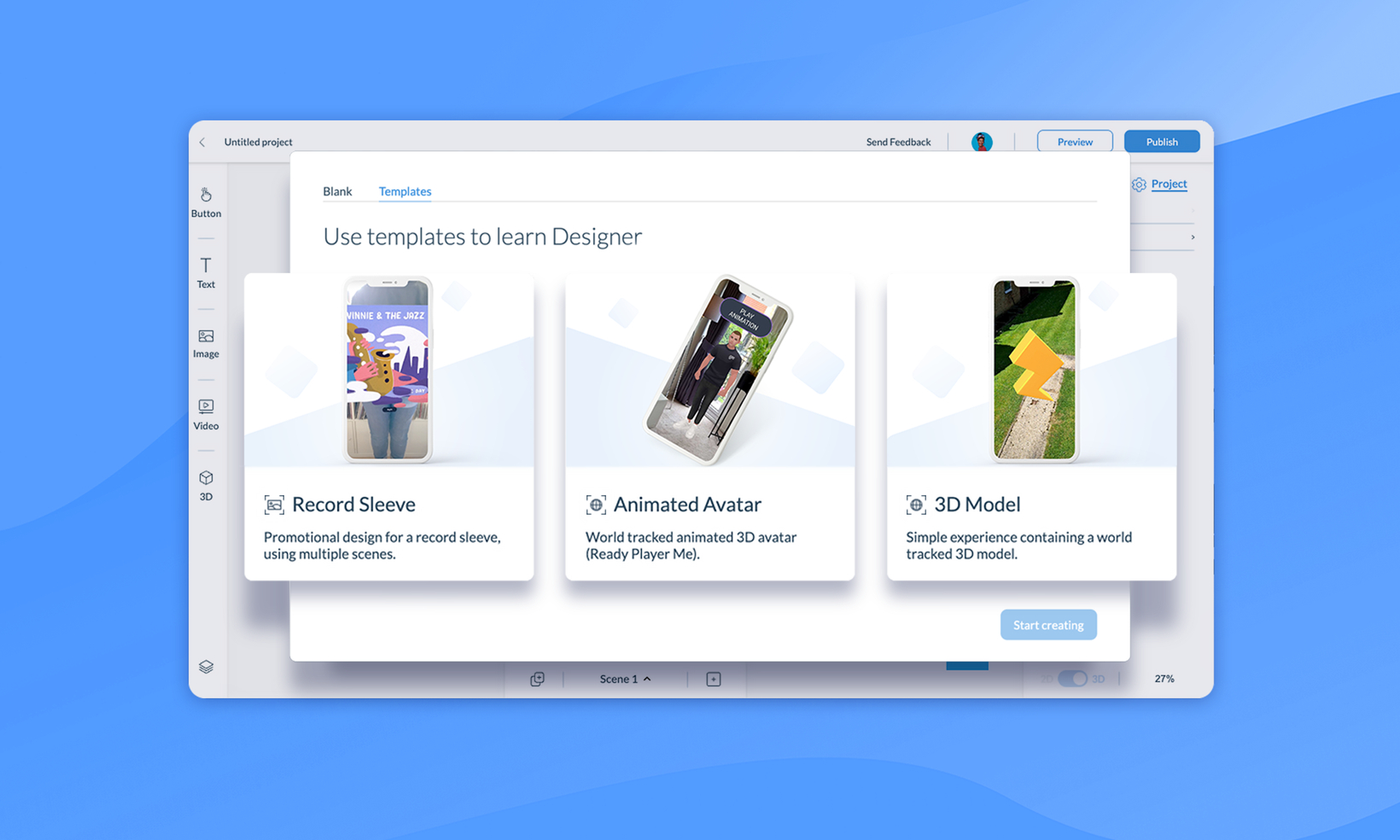 DATE:

AUTHOR:

Chris Holton
Use Templates in Designer to accelerate your learning! 
DATE:
AUTHOR: Chris Holton
Hello everyone! 
I am super excited today to be able to announce that we have launched a new Templates functionality to ZapWorks Designer, allowing you to jump start your learning of using our no-code AR tool. 
Templates are accessible when you create a new project. In addition to a blank scene, you will now be able to select from our initial selection of 8 templated projects that showcase the full spectrum of functionality supported in Designer. These fully formed projects are intended to educate and inspire you on how to structure your projects using scenes, make use of multiple 3d models and animations, use actions to set up interactions, combine different tracking types, and much, much more. 
.
To get started with Designer templates, create a new project at my.zap.works today! 
.
---
In addition to templates, today's product update includes a number of requested feature and user experience improvements: 
Target actions for videos.
Creators can now set a video to play using actions, allowing you to use a separate button. Previously users could only interact with a video by clicking on the object itself or having it set to autoplay. 
Upright / flat orientation for image targets.
By introducing the flat orientation, we now offer greater flexibility rotating the camera when building a scene with a target image. A big quality of life improvement! 
Ability to replace objects in scene.
You can now replace objects such as 3d models, videos, images and target images that are already in scene. This allows greater flexiblity by allowing you update assets whilst maintaining scale, rotation and position of objects as well as any assigned actions and transitions. 
Bug fixes on 2D view.
A number of users identified some issues with manipulating objects when using the 2D view. These have now be resolved which should offer a much improved experience. 
---
.
As always, thank you to our incredible Designer product team for their hard work on this release, as well as an additional shout out to the talented folks in our Customer Experience team who designed and built these awesome templates. 
Thank you in addition to you for your continue support and use of Designer. We hope these updates help inspire you to build even more amazing projects and we can't wait to hear your feedback.