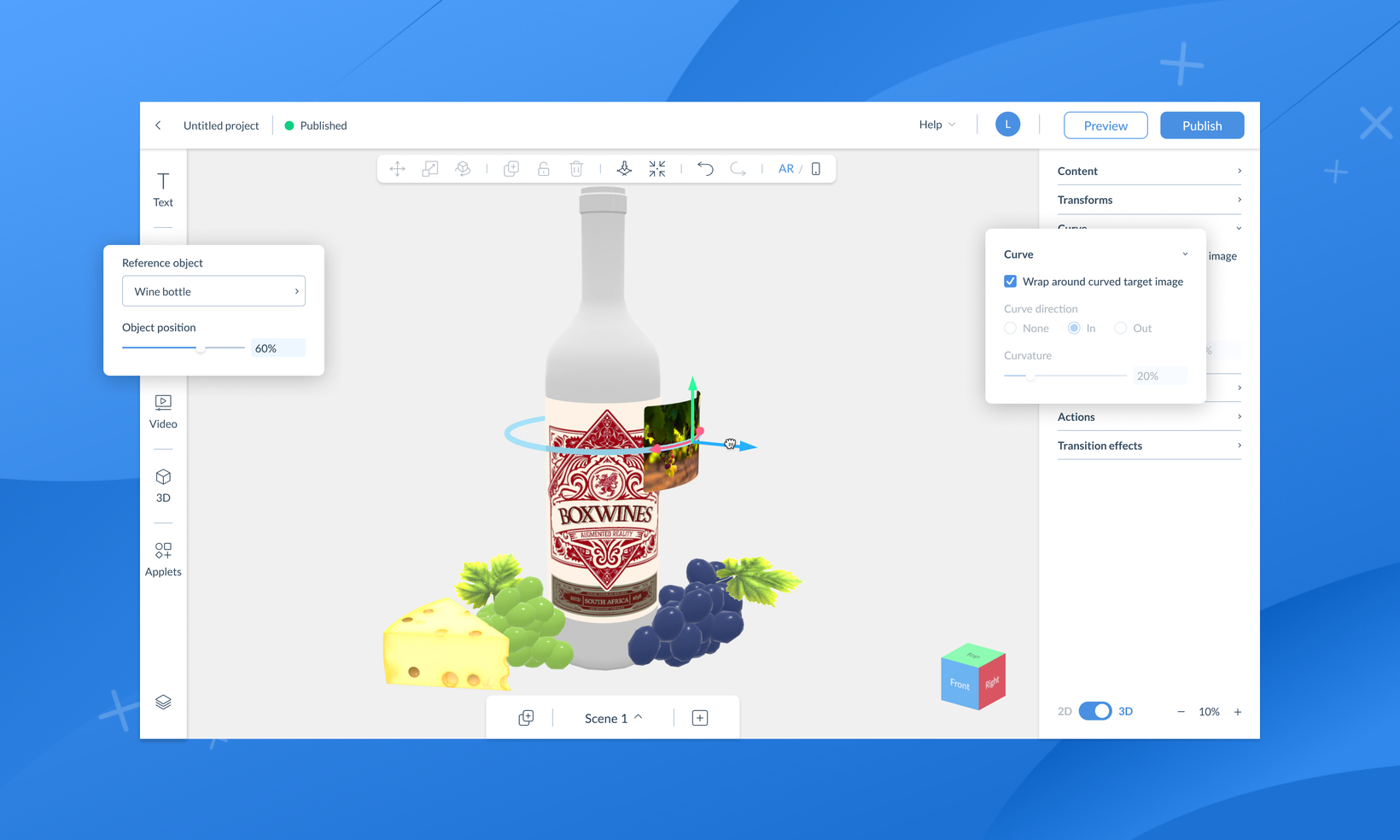 DATE:

AUTHOR:

Chris Holton
Curved surface tracking now supported in Designer
DATE:
AUTHOR: Chris Holton
Hey there!
We are delighted to announce that the latest update to Zapworks Designer, available now for both new and existing projects, includes support for curved surface tracking.
Every year, brands invest millions of dollars and countless hours to differentiate themselves from the competition. While they say never judge a book by its cover, when it comes to buying a bottle of wine, we all know that the right decision is to go with the one with the coolest label
. Product packaging is a crucial marketing asset for brands, as it allows them to establish a recognizable identity and tell a story.
Previously, Designer's image tracking was limited to flat objects on packaging. However, with curved surface tracking, drinks brands can now extend their storytelling into augmented reality. This advancement enables greater customer engagement by launching AR experiences that directly track from cans or bottles
.
Here is a summary of how we have implemented curved surface tracking in Designer:
.
Brand new visual image trainer
Designer now includes a more advanced image trainer, which allows you to preview uploaded flat or curved image targets before adding them to your AR scene. Additionally, you can improve tracking accuracy and performance by specifying the dimensions of your physical product.
.
.
Wrap images, videos and buttons around your curve target image
We have introduced an additional transform gizmo to enable curved surface tracking. This allows objects to wrap snugly around the circumference of the curved object. You can adjust the distance or depth by moving the 2D object away from the curve.
As the object is gradually moved away, the curvature undergoes a smooth transition, similar to a gentle ripple. Initially, there is a prominent curve at the centre of the curved object, which gradually diminishes as the object moves farther away from that central point.
.
.
Curve images, videos and buttons in all scenes
You can apply curvature to buttons, videos, and images in various scenes such as world, face, and image-tracked scenes. This feature is particularly useful for introducing subtle details or enhancing the depth of other scenes by incorporating curved elements.
.
.
Reference objects to help you visualise how the curve will look in real life
We have provided a selection of reference objects, including small and large cans, a wine bottle, and a large soda bottle, to help you visualise your curved label and how it will appear to end users. These reference objects are optional and will not be displayed in the final experience. However, we have found them to be extremely useful for determining where the label will be visible on an object and for positioning buttons, 3D models, and other assets.
.
.
Three new templates
There's also 3 brand new templates featuring curved surface tracking and curved elements. These are great for inspiration. You can find these live within Designer today!
.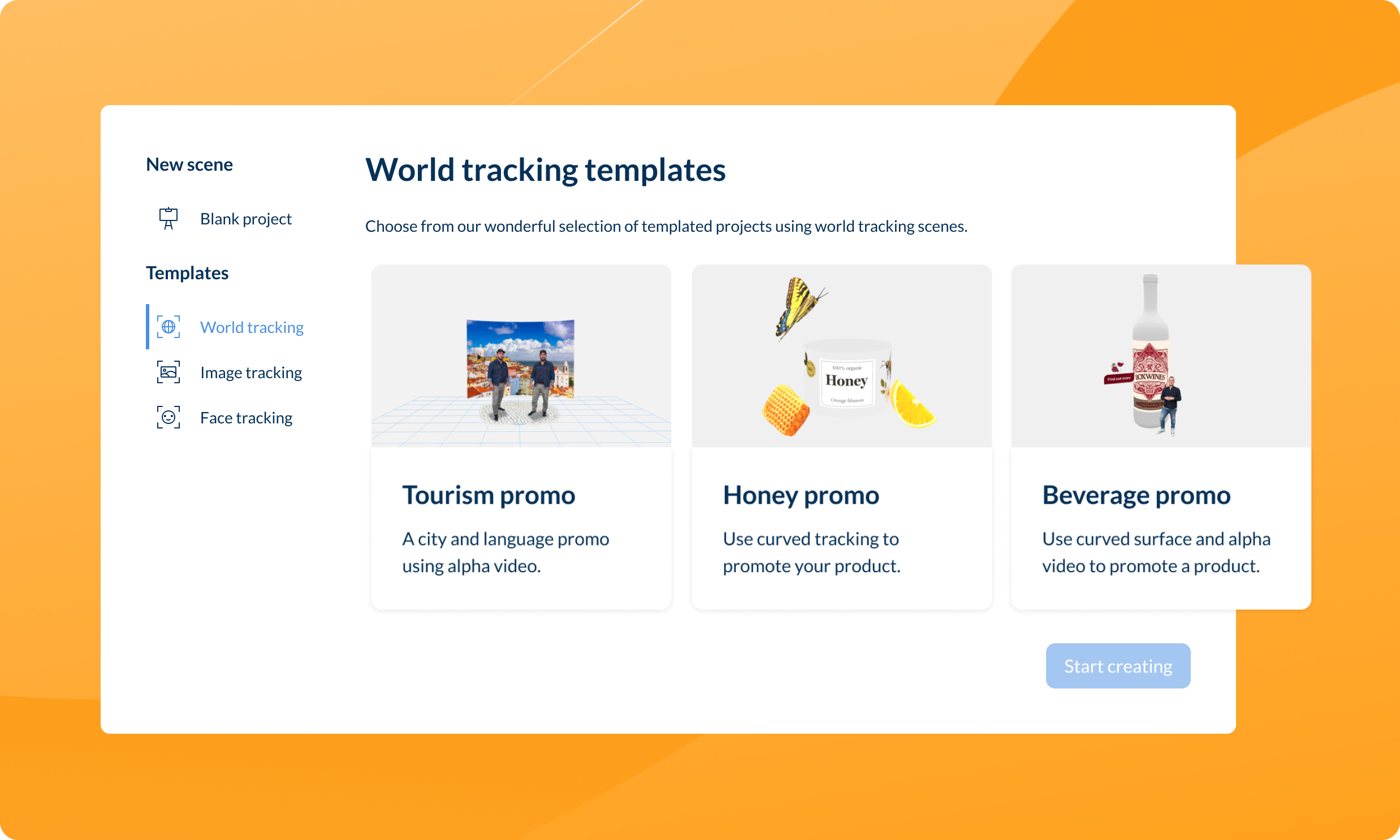 .
---
As always, putting together these features is a real team effort. We would like to thank all the customers who helped us define and scope out this exciting new feature, as well as the amazing Designer team who made it happen. They have done a fantastic job in providing a user experience I know you are going to love
.
I look forward to seeing how you progress with curved surface tracking, and I would appreciate it if you could share your experiences with us on our brand new Discord. You can find and chat with the team on the #designer-community-support channel!
.
---
As an added extra! Here's an experience we created recently that showcases curved surface tracking, world tracking, alpha videos, 3D models and particles in action
You can find and edit this experience yourself in the project templates (mentioned above).
.
.
---
Attribution